About Us

Open Today!

Sales:

9am-6pm

|

Call us at: 316-512-7864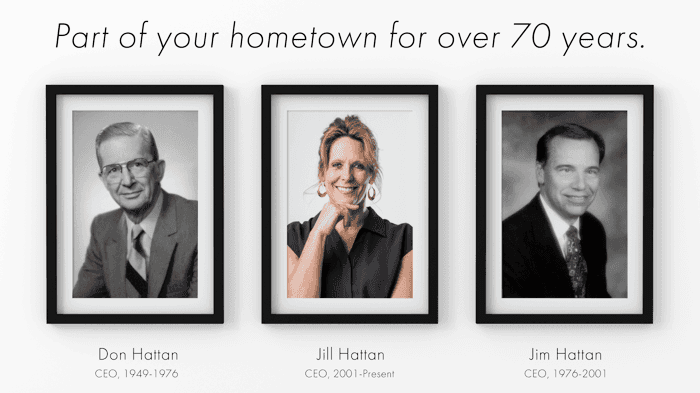 Don Hattan was founded in 1949 and is the oldest dealership in Wichita. Don Hattan was a Chevrolet Motor Division Accounting Manager when the opportunity arose to purchase a Chevrolet store. Jim Hattan assumed operational duties in 1979 and led the company through expansion for the next two decades. Jill Hattan became the general manager in 2002 and dealer principal in 2010.
"When I joined Don Hattan, my grandfather and father had built the company providing hometown values and service to the customer. However, the automobile industry has a reputation of its own. Its my challenge to continue to set us apart from that perception. We work hard every day to provide an experience for our customers that is one they can trust and one that is absolutely hassle free. My husband, Ben Thomas, joined the Don Hattan team in 2004 and is committed to providing excellent customer service through developing the people in our company. We both believe in embracing the latest in modern technology to provide a fair and transparent deal on all of our products and services. We want your dealership experience to make you think differently about how car buying and servicing should be." -Jill Hattan
The last few years have been very exciting at Don Hattan Dealerships! We went from one dealership to four in only three years. Our first expansion in 2015, we brought used cars to El Dorado. In 2017, we opened a used car and service facility in Derby. in early 2018, we opened Don Hattan Ford in Augusta. We are surrounding the Wichita area with dealerships to better serve our customers.
Generations of customers have bought their vehicles from our dealerships and we are still the family owned business we have always been. We want the sense of "hometown values" to come through no matter which location you might visit. We hope you see the difference for yourself.
Every day our team uses the latest methods in technology to sift through over 20,000 used vehicles every hour. This is to make sure we are providing you the highest quality vehicle with the best pricing possible up front. We will show you the data to prove our prices won't be beat.